The following manual describes Bluetooth MAC Address Changer for Windows version 1.3.
This software tool allows you to change the bluetooth address of your dongle (or built-in card).
Systems and hardware requirements
Windows Vista with KB942567 (Windows Vista Feature Pack for Wireless) or later.
Bluetooth adapter based on CSR or Broadcom chip under Microsoft Bluetooth Stack. (Bluesoleil, Toshiba, etc are not supported). See how to quickly check if your bluetooth adapter is supported without downloading Bluetooth MAC Address Changer.
Usage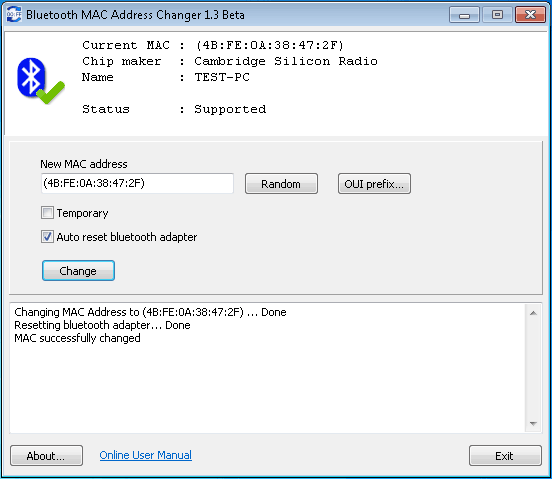 1. Enter desired bluetooth MAC address (or generate random one by pressing "Random" button).
Bluetooth address should be in the format (XX:XX:XX:XX:XX:XX) or (XX-XX-XX-XX-XX-XX).
Since changing Bluetooth Address to 00:00:00:00:00:00 (all zeroes) can make bluetooth adapter non-functional (bricked), this address is banned in version 1.3. (more details about Invalid Bluetooth Address)
2. Click "Change" button. 
3. If "Auto reset" option is not used, replug the bluetooth adapter manually.
OUI Lookup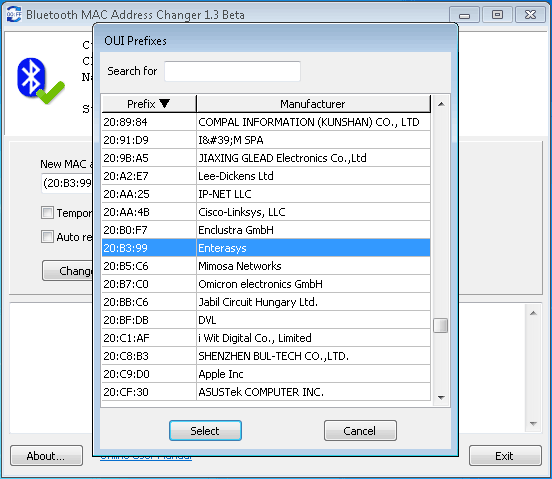 This feature lets you quickly find appropriate Organizationally Unique Identifier (OUI - first 3 bytes of a MAC address).
Click any column title to change the sort order of the table. The current sort order is indicated in the column title. To search for a specific manufacturer start typing it's name in the search box.
You can also use our online Bluetooth MAC Address Lookup form to perform searches.
Options
Temporary
Changes to the Bluetooth Address are not preserved after adapter is unplugged.
Supported only by CSR chips.
Auto reset bluetooth adapter
Eliminates the need to replug bluetooth adapter manually.
Supported only by CSR chips.
Tips and Tricks
There is no feature like "Restore original bluetooth MAC address". We recommend to write down the original bluetooth address in case you wish to restore it later.
Sometimes "Auto reset" feature may fail. In this case replug the bluetooth adapter manually.
If you run Bluetooth MAC Address Changer in virtual machine (Virtualbox, etc.) your bluetooth adapter may get detached from guest system if "Auto reset" option selected. You may need to reattach it again.
Errors
Video Guides
Technical Details
History and Technical Details of Bluetooth MAC Address Changer